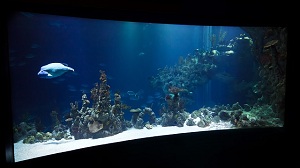 Instead of relying on natural sunlight for your fish it's better if you install artificial lights above your tank. If your tank has aquatic plants then lightning will be necessary.
Here are some points to consider for better lighting conditions.
Do not use ordinary light bulbs (tungsten lamps) for lighting your fish tank as these produce yellow colored light as well as heat. The heat produces by these lamps can affect water temperature apart from the already present water heater and this can harm your fish.
Ordinary lamps become hot after long usage. Some fish have a habit of splashing water while they swim and if drops of water fall on bulb they will break causing real problems.
The best way to lighten up your tank is to use fluorescent tubes above the tank with a glass covering in between the water and the tubes. Light produces with these tubes is soothing for human eyes.
Lighting stimulates the movement of fish as well as growth of aquatic plants in the fish tank. That is why do not use tubes that produce colored light. The colored light will produce a tinge inside the water and you won't be able to enjoy the original color of the fish species.
LED lights are the most preferred choice for modern fish tanks as these require very less power and last longer producing excellent quality even lighting conditions.
How long should you turn on the lights above the fish tank?
If you are using aquatic plants in the tank then keeping your light on for 12 hours and off for the remaining 12 hours will work just fine. There is not an exact answer to this but experimenting with your own conditions will work best here. During night hours you turn off the lights just like in natural conditions when the sun sets, aquatic plants do not receive sunlight. If it's not possible to keep the lights on for 12 hours because of your working hours and other conditions make sure to at least turn them on for 8 hours daily. You can even break them down to 4 hours in the morning and 4 hours in the evening.
Should I turn off aquarium light during night hours?
Yes, just like natural environments when the sun sets fish don't require light during night hours. It's a good idea to turn them off during night hours and turn them on the next day in the morning.
Too much lighting and for a longer duration will encourage algae growth in your tank which must be prevented. Start following your own schedule and observe the changes in your tank.
My tank does not have aquatic plants; do I still install lights above?
If you don't have aquatic plants then you probably don't need any lights at all. If your house and the place where the fish tank has been placed receives enough light then having lighting is not mandatory. Just make sure a god quality heater and filtration system is present in the tank.
Which are the popular brands of aquarium lights?
MarineLand
CurrentUSA
Aqueon
Glo
How much do aquarium lights cost?
The cost of the lights directly depend on the length of the tube. Normally a 11 inch LED tube light will cost you around $28 US and as the length increase the cost will increase too.
Here is a video that shows how lights are fixed above the fish tank.
If you check amazon.com you'll find several other affordable options for aquarium lights
Is Lighting Necessary For A Fish Tank?
No related posts.