That's a tricky question to answer. There are many factors that are playing at a time that are responsible for the stability of the fish tank when it gets filled completely with water. Here are some of the things you'll need.
First when it comes to deciding the transparent material for fish tank walls, there are two options, plain glass or acrylic sheet. The bigger the tank you want the thicker this sheet will be.
The bonding material that keeps the volume of the tank intact. To make this work you'll need a good quality aquarium safe sealant that does not go off after a few days.
Next you'll need all the necessary tools that you must be skilled to use so that you can cut the glass or acrylic sheets of the correct sizes and build it yourself.
In short, you need some extra special skills to build it yourself at home and even if you build it home it must be of top quality and durability because there is no room for error here.
If something goes wrong and it start leaking, then you'll have a hard time shifting all the beautiful fish and tank decorations elsewhere disturbing the habitat and this can be dangerous for fish. Some fish are very sensitive and cannot take the slightest change in lighting conditions, water temperatures and water chemistry etc.
What are some of the standard sizes of fish tanks available if I want to buy them?
Buying the perfect size fish tank requires you to first finalize where you want keep it. The bigger the tank the heavier it will become once you fill it with water and at the same time a bigger tank will require more maintenance and care as compared to a smaller one.
If you are buying a fish tank for the first time then a 10 gallon tank that measure 20″ X 10″ X 12″ will be a great starting point. This will cost you around $45 US. This cost does not include other accessories such as water filer, heater, air pump, decorating ornaments and fish. This occupies less space and easier to maintain. Once you get familiar with all the necessary daily, weekly and monthly tasks that are associated with fish keeping, you can shift to a bigger tank as the need arises.
Starting from a 2. 5 gallons capacity (the smallest one), fish tanks are available till 210 gallons capacity. A 210 gallons tank measures around 72″ X 24″ X 29″
Here are some of the standard sizes of tanks and their water holding capacity.
2.5 gallon = 12″ X 6″ X 8″
5.5 gallon = 16″ X 8″ X 10″
10 gallon = 20″ X 10″ x 12″
15 gallon = 24″ x 12″ X 12″
20 gallon = 24″ x 12″ x 16″ / 30″ X 12″ x 12″
23 gallon = 36″ X 12″ x 12″
30 gallon = 30″ x 12″ x 18″
35 gallon = 36″ x 12″ x 18″
40 gallon = 48″ x 12″ x 16″
50 gallon = 36″ X 18″ x 18″
55 gallon = 48″ X 12″ x 20″
60 gallon = 48″ x 12″ x 24″
75 gallon = 48″ x 18″ x 20″
90 gallon = 48″ x 18″ x 24″
110 gallon = 48″ x 18″ x 29″
125 gallon = 72″ x 18″ x 22″
150 gallon = 72″ x 18″ x 27″
180 gallon = 72″ x 24″ x 24″
210 gallon = 72″ x 24″ 29″
250 gallon = 60″ x 30″ x 30″ / 96″ x 60″ x 25″
280 gallon = 90″ X 26″ x 25″
300 gallon = 96″ x 30″ x 24″
This website will help you calculate sizes of different dimensions and their corresponding water holding capacity.
Which size of the tank is best one?
There is no such thing as the best size. There is a simple formula for picking up the size of the tank. Everywhere you'll find the rule mentioned as "1 inch of fish for every 1 gallon of water".
But here is a simple diagram that shows how to pick up the fish tank. Here are two sizes of tanks in the form of a "fish bowl" and a fish tank, but the top open areas are different in both cases. Pick a tank with top open area is more, for easy exchange of oxygen and escape of other gases into outside air. This will reduce the stress on artificial equipment and you'll be able to maintain your tank effortlessly.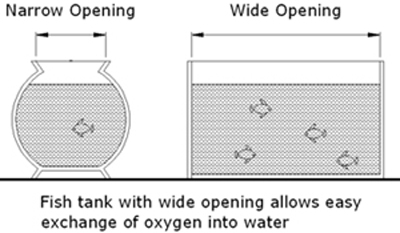 While picking up the tank make sure you do some research about what species you are going to put in your tank. Especially look for how big they grow in millimeters when they become adults.
Planning your tank for the future growth of fish will save your money and your tank will look beautiful too. Overcrowding your tank can produce a lot of stress on the equipment as well as the fish.
What Thickness Of Glass Is Enough For A Home Fish Tank
If you are going to buy a tank, then this problem will be taken care by the manufacturer as they have skilled machinery and labor to design and build the tanks. The thickness of the glass or acrylic sheet is critical if you want to build your own tank. If you pick the sheet too thin then it will bow out and likely break because of the large water pressure from inside.
But if you pick it too thick then the whole tank will become too heavy and building a tank will be difficult as well.
Picking up a fish tank for goldfish?
To keep 5 gold fish of about 9 cm long each it's better to have a fish that can hold 75 liters (20 gallons approax.) of water. The size of the tank that can hold that much water will be around 25″ X 14″ X 15″.
Which size of fish tank is perfect for 2 koi fish?
Koi fish grow really big for a small fish tank. The length of an adult koi fish can anything from 18 inches and above and for 2 koi fish to live and enjoy happily it is necessary to have at least a 500 gallon tank. A 500 gallon tank would measure somewhat like 120″ x 48″ x 20″ which is really big for maintaining. Instead comet fish are great and look like koi fish but are smaller in size and can be kept in a manageable sized fish tank.
What size of fish tank will be better for keeping betta fish?
If you are going to keep more than 1 betta fish then a 5 gallon tank would be the best choice. Betta fish grow up to 2 inches in length and a 5 gallon tank that would measure about 16″ X 8″ X 10″ will be fine.
Should You Buy A Fish Tank Or Build One Yourself?
No related posts.